forScore
14
Available Now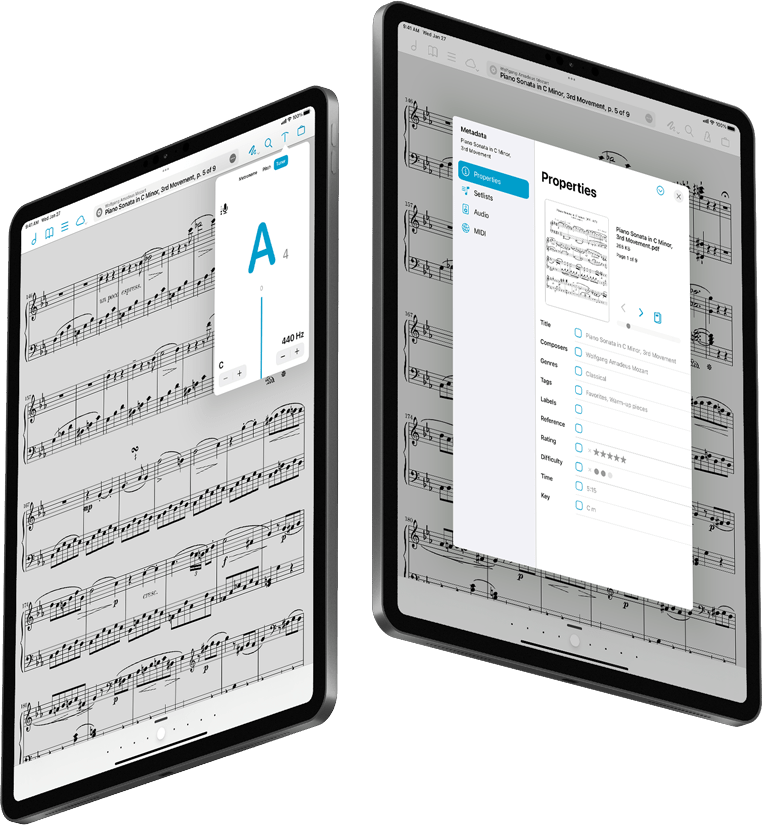 New Elevations
Exploration, adaptation, and reinvention are the renewable resources that great software is built upon. Greatness requires a constant willingness to reach higher even when it means letting go of things we're familiar with, and an ability to manifest ideas through thoughtful execution. It's time to level up with forScore 14.
Metadata
Completely redesigned and rebuilt from scratch, the brand new Metadata panel is more flexible, capable, and refined. It uses a sidebar (or tab bar) to separate its different areas of focus, making room for setlist and library searching, setlist sorting with full support for folders, and more.
The Properties pane is where people spend most of their time, so we improved keyboard navigation and overall usability to make it easier than ever to add info to your music collection.
Most importantly, the new Metadata panel makes room for improvement rather than trying to constrain everything into a menu-sized layout. It gives us the ability to adapt and grow in the future, giving more musicians the tools they need to maintain a sheet music library that works best for them.
Tuner
The all-new tuner was rewritten from scratch using the latest techniques and technologies, designed first and foremost to be easier to see while offering more functionality than before.
It uses powerful frequency analysis to ensure it's as precise as possible, features the same easy transposition and fine-tuning capabilities, and now gives you three levels of microphone input sensitivity so you can get the best results for your instrument.
Upgrades
StoreKit 2, Apple's latest framework for handling transactions, makes buying scores or subscribing to forScore Pro easier than ever. Your purchase history is updated automatically in the background so you don't need to use the Restore button to access features or content on other devices.
These new APIs also allowed us to easily add a new forScore Pro 30-day pass so you can try out Pro features with no auto-renewal. It's great for testing out advanced features or for getting help when you need it most.
With forScore Pro, musicians can now turn pages by winking using Face Gestures—it's easy, more accurate, and works great no matter which instrument you play.
Apple Pencil
Apple's latest iPad Pro models support Apple Pencil hover detection, opening up a whole new way to interact with apps. In forScore, an indicator appears on the page so you can preview the current drawing tool before you begin (great when using Live Annotation).
If you use the Instant Annotation feature, which lets you draw without entering annotation mode, things get even better with hover detection: instead of saving your changes after a short period of inactivity, it does so when your Pencil moves far enough away from the screen, making mode-free annotation smarter and more reliable.
With forScore Pro there's even more to love: while hovering, you can use customizable pinch, swipe, and tap gestures to resize or cycle through presets, undo or redo drawings, or show a new rotary preset picker that makes accessing your presets faster and easier than ever.
Secondary Windows
Over the past few years we've been building a whole new forScore experience for secondary windows, and this update is no different. Access and manage libraries, create or edit bookmarks, send and receive MIDI signals, and use filters in menus to find just what you're looking for.
We've also expanded support for key commands so you can use your keyboard or any other supported accessory to open specific menus or change tools while annotating.
But the best part is that our brand new metadata panel was built with multi-window support in mind, so you can edit properties in one window and see them update immediately everywhere. It's another giant step that gets us most of the way toward offering the best of forScore's core functionality no matter where you're working.
Sharing
With forScore 12 we introduced the Open Setlist format which allows users to create setlists using a human-readable, easily editable XML structure. Now, with forScore 14, you can also choose to export your setlists in this format, making it simple to share setlists with other apps or modify them rather than starting from scratch.
If you've got forScore Pro, share sheets now even include automation links making it nearly effortless to set up your perfect workflow. Choose from a variety of options based on the content you're sharing, then paste those links wherever you like.
Design
A major update is the perfect time to spruce up an app, and forScore 14 delivers with a number of improvements that musicians everywhere are sure to love. The visual metronome's color and width can now be adjusted for greater visibility, the seek bar takes up less space making navigating between pages in shorter pieces easier, and the support panel has been redesigned to offer more information with less clutter.
Last, but certainly not least, forScore's icon is completely changing for the first time ever. We've grown to love our old icon (which is still available if you prefer it) but forScore is a completely different app now compared to when we launched and it's time for a change.
The new App Icon picker features a number of premium alternate icons (including one designed by the very talented Matthew Skiles) so forScore Pro subscribers can pick whichever suits them best.

Available Now.
forScore 14 and all of these amazing upgrades are available now for iOS, iPadOS, and macOS. forScore 14 is a free update for all existing users, available across all supported platforms at no additional charge. Get it today on the App Store, and be sure to check out our news page or use our RSS feed to follow our latest news and announcements.