forScore
14.1
Available Now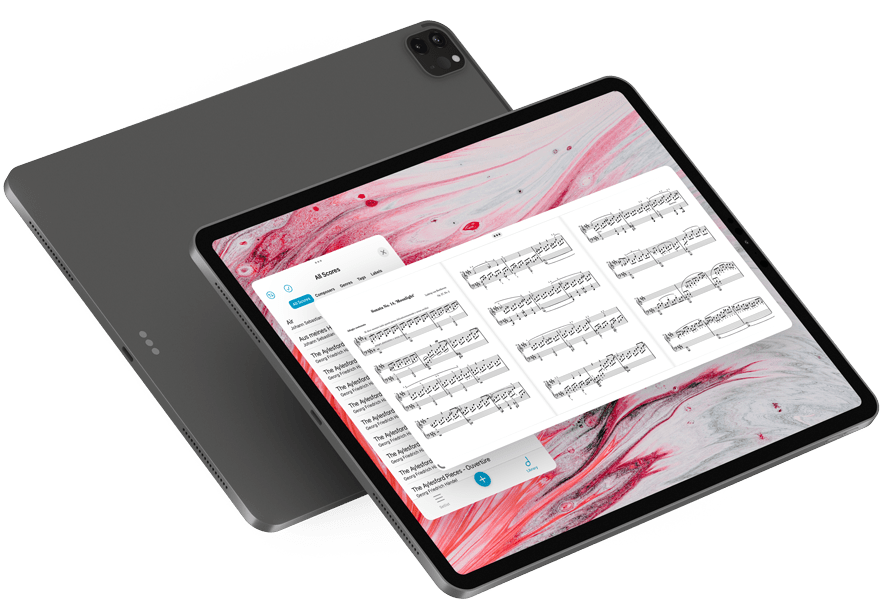 Envision More
A great workspace elevates your abilities and gives you the flexibility you need with as few distractions and concessions as possible. It reacts to you and becomes collaborative, allowing you to focus on what's most important. This year, forScore 14.1 delivers our best sheet music reading experience yet—for iPad, Mac, iPhone and beyond.
Multi-Page Layout
You've always been able to view one full page or two pages side-by-side, but with flexible windows on macOS or on iPads that support Stage Manager, forScore can be resized and arranged just how you like. When forScore is presented in wide enough aspect ratios, it now displays up to five pages at a time giving you the best view yet of your digital sheet music.
Best of all, forScore will be ready to make the most of visionOS next year, allowing you to see more of your music at once in a window that can fill your entire field of view.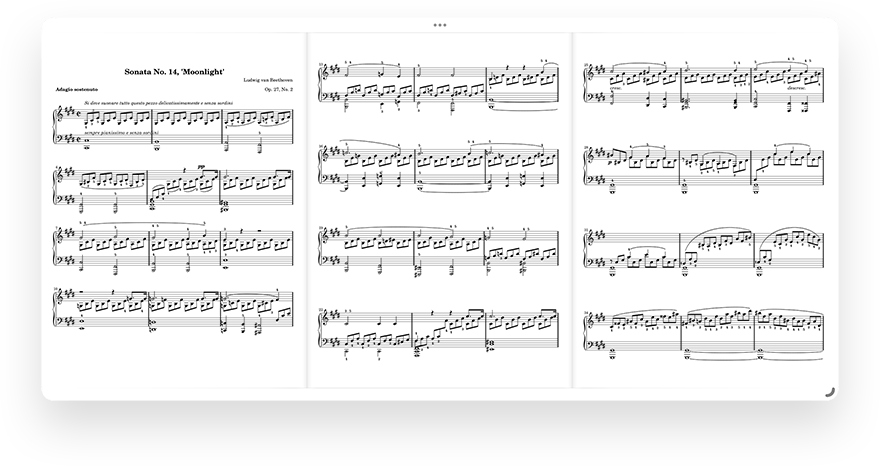 Secure Sharing
Sometimes you want to share sheet music with others confidentially and ensure that it doesn't get redistributed without your permission. Now, when sharing 4SC files with other forScore users you can choose to limit sharing by the receiver so they can't copy or send it elsewhere.
If you're subscribed to forScore Pro, you can take things a step further and send auto-destructing 4SC files that are deleted by forScore after a configurable amount of time.
Buttons
Optional button labels help you identify specific buttons with a quick glance. Choose from two distinct styles to ensure your button's label is as legible as possible.
Metronome start/stop buttons can now also temporarily adjust tempo so you don't have to configure and tap two separate buttons, and navigation buttons now respect page number offsets if set for the target piece of music.
Setlist Editor
forScore's Setlist Editor was originally designed to provide a great experience on iPad, but when it made the jump to smaller layouts it just wasn't ideal. Now it has been totally restructured using a tab bar for improved usability, a more intuitive design, and delightfully functional layout no matter what.
Level Up
Apple's latest OS updates are coming, and we're ready to take full advantage of new capabilities like TipKit—a whole new way for apps to share helpful tips at the appropriate time in a way that you can control. They're intuitively designed, synced across your devices so you won't see them repeatedly, and you can disable them system-wide if you prefer.
This year we're also very excited to be offering a modern replacement for our pitch pipe widget. Unlike the old Today View widget, this widget can be used in more places (like your home screen), it supports all five instrument sound banks, and it respects any adjustments you've made to fine-tuning within the app.

Available Now.
forScore 14.1 and all of these amazing upgrades are available now for iOS, iPadOS, and macOS. forScore 14.1 is a free update for all existing users, available across all supported platforms at no additional charge. Get it today on the App Store, and be sure to check out our news page or follow us on Mastodon for our latest news and announcements.