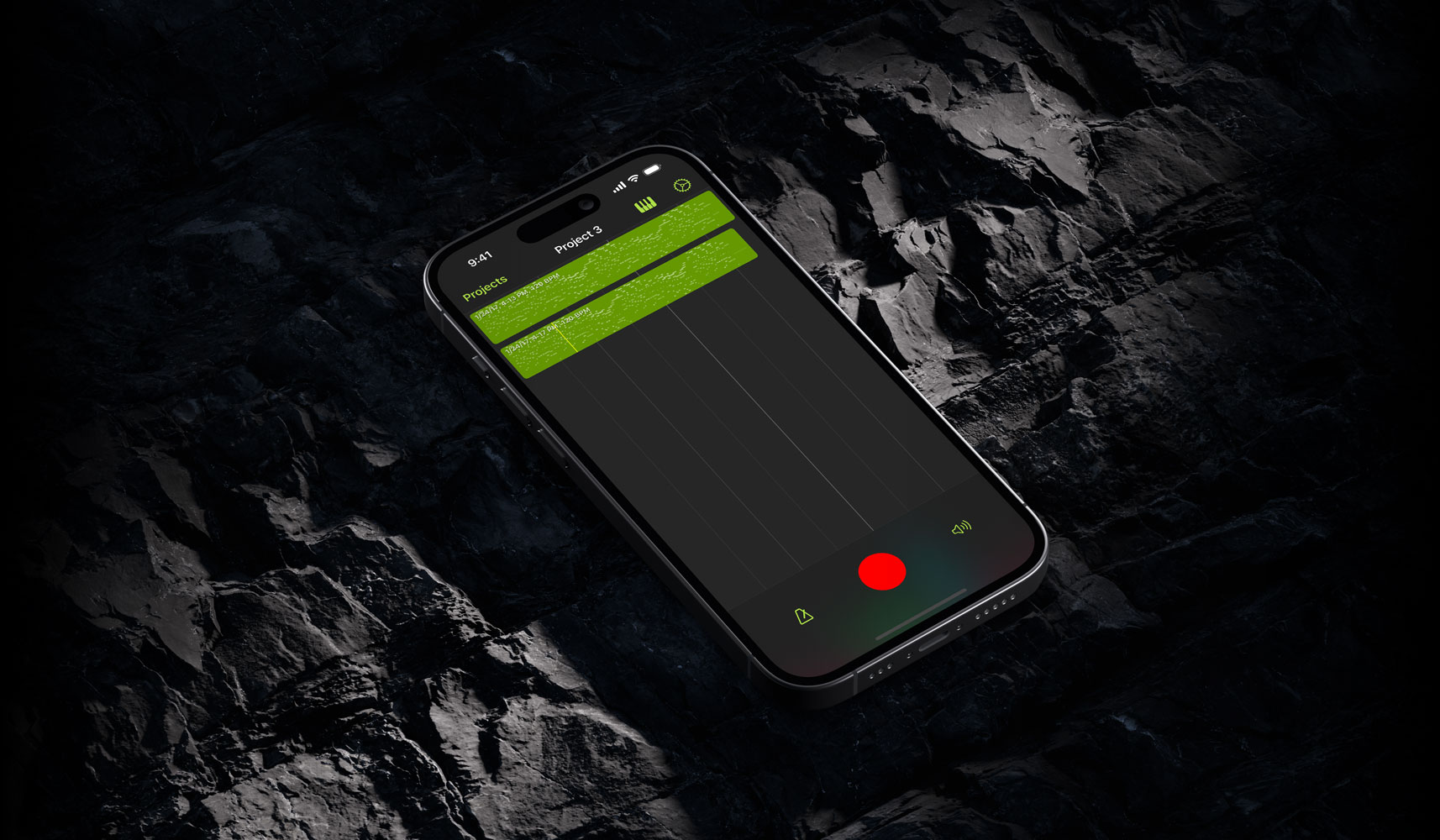 Nocturne: Single-Track MIDI Recorder
Get your ideas down quickly with Nocturne. When a complete studio in your pocket is overkill, Nocturne gives you the immediate freedom to improvise and iterate. It's designed to capture one or more takes of your song at a moment's notice. So when inspiration strikes, ditch the "smart" bands and granular settings and focus on playing instead.
Learn More
Single-Track, Multi-Take
Nocturne is the simplest, fastest way to record your solo performances from a MIDI device. Just connect your controller to your iPhone, iPad, or Mac (adapters may be required) and tap the record button. When you're done, tap to play a track and drag the yellow indicator back and forth to hear a specific part. When you're ready to record another take, just tap the record button again.
It's all designed to get out of the way, to own the essentials and leave out the fluff. No arranging, no resetting between takes, just you and your ideas as they come.
Designed with electric pianos in mind, Nocturne supports not just the sustain pedal, but also the soft and sostenuto pedals so you can capture the most complete, faithful MIDI representation of your performance. Nocturne also includes a broad and natural set of piano sounds, and it even includes an on-screen keyboard so you can save your ideas no matter when and where they strike.
When you've got something worth keeping, you'll want to use the right tool for the job: share your MIDI file with a computer for additional editing and mastering.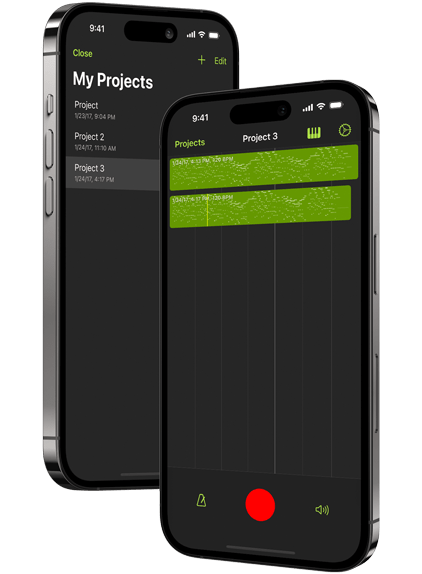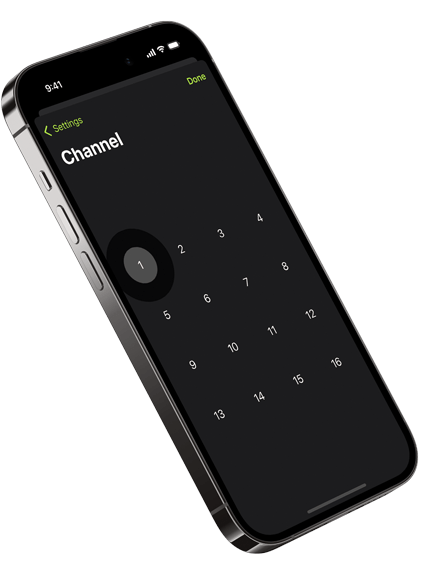 Design
We put a lot of thought into not only how each piece of Nocturne looks, but how it's structured, presented, and what sorts of interaction and feedback it provides. Feedback, in particular, is much more than just adornment—it must also serve a distinct and important purpose. We took these ideas very seriously and created an app that puts both usability and visual appeal at the forefront.
Nocturne's cool, nighttime theme goes beyond just its color choices. When you connect your MIDI device and Nocturne begins receiving messages, you'll see a subtle Aurora Borealis-like effect appear at the bottom of the screen. It gives you a sense of what you're playing by changing colors and position based on the keys you press.
The record button and the stop button are one in the same, and there's no mistaking what it's doing. When tapped, the red, round record button animates with a quick roll into a blue, square stop button. It's obvious, purposeful, and just a little playful.
If you need to change the input channel to ensure you're receiving messages from the correct source, the channel picker gives you an easy way to tell which is which: press a few notes on your controller and a black circle will pulse outward from the corresponding channel number to show you where the signals are coming from. No guessing required.
Inspiration
Like most great things, Nocturne was created to satisfy our own needs as musicians. We wanted to save ideas right when we had them or record practiced pieces several times over to capture the best rendition.
With so many music apps out there, it's a wonder nothing worked quite like we wanted. Music memo apps deal with audio only, so our MIDI devices were left out of the fun. Full-featured studio apps just got in the way, requiring so much configuration and babysitting that by the time we got to the keyboard the idea had faded. We needed an efficient tool without exhaustive editors or effects. So we got to work.
Our mission was to create an app that you could start using in seconds and record one or more takes with just a few taps. We needed to be able to listen to the results and delete takes if needed. We needed an on-screen keyboard for capturing ideas away from home, and we needed support for the whole piano—including the often-forgotten soft and sostenuto pedals.
For two years we've worked on it in our spare time. We faced down some nasty iOS bugs and had to walk away a few times, but we kept coming back to it because we needed it for ourselves. Now that it's ready, we hope others will find it useful too.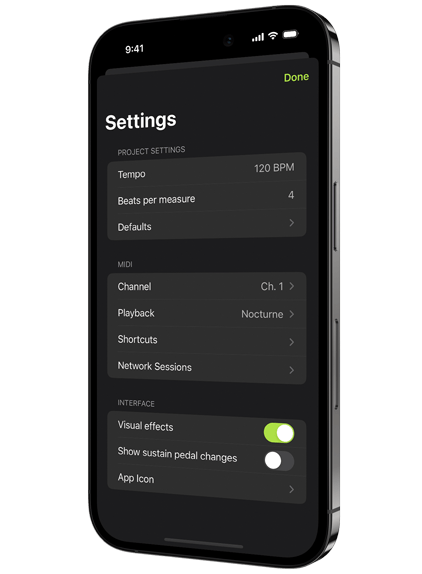 Nocturne for Mac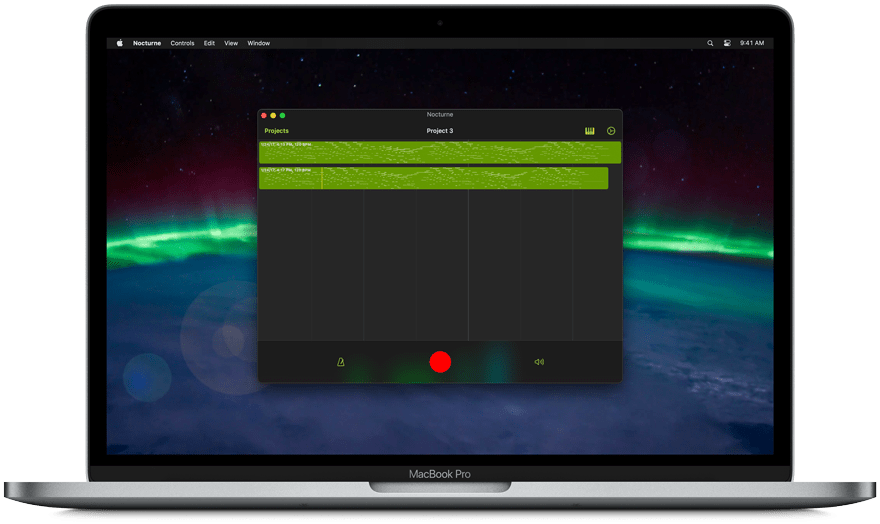 Nocturne is ready to help you capture your ideas no matter where you are or which screen you're using. Now available for Mac at no additional charge, it fully supports the touch bar and menu bar, and responds to keyboard shortcuts for lightning-fast control.

Available now.
Nocturne is available now on both the App Store and Mac App Store as a single universal purchase, allowing you to install and use it on up to ten of your Apple devices at no additional charge. Nocturne is available for iPhone, iPad, and Mac. Nocturne requires iOS 15 or later, iPadOS 15 or later, and macOS 12 or later. Some MIDI devices may require a separate dongle to connect to your Apple device, such as the Apple Lightning to USB Camera Adapter, sold separately.